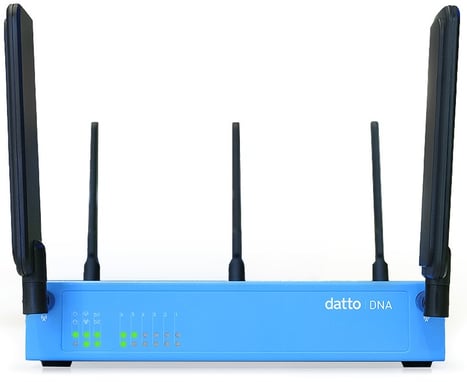 Philadelphia, PA – June 14, 2018 - Cloud communications platform provider, BVoIP, today announced certification of the Datto Networking solutions stack including the Datto Networking Appliance (DNA), Datto Standard & PoE Switches, and Datto Access Points as approved devices.
Datto's suite of networking solutions simplifies deployment of business grade devices with high density and increased throughput utilizing meshed access point technology. This allows wifi enabled VoIP devices to be viable at scale in order to build a cost savings around additional network cabling.
The DNA is a Router/UTM solution designed for Managed Service Providers (MSP) by industry leading channel vendor Datto. In conjunction with a rigorous certification process; BVoIP's award winning platform has been optimized to ensure performance across DNA appliances.
Certification has confirmed the following items:
Successful NAT Traversal of recommended VoIP phones and devices while the DNA is using primary or 4G failover connectivity
Auto re-registration of recommended VoIP phones and devices while failover over to 4G and failing back to primary ISP connections
Active calls made or received while on 4G failover will complete without interruption even after primary ISP connection is restored.
Successful SIP ALG avoidance while connected to 4G failover connection without any settings changes
Zero Touch Provisioning, remote firmware updates, and remote device control leveraging DNA appliances and the BVoIP Unified Management and Provisioning Platform.
"Our IT partner community engages a ton of new products as they work to standardize their networking environments. Their business customers have a clear expectation that real time communications remain online to facilitate daily operations. Datto's Networking Stack is a great option and their DNA appliance has a built-in 4G failover; a key feature to providing business continuity. We are proud to include Datto Networking to a list of solutions certified for use in parallel with BVoIP's Unified Communications Platform." says George Bardissi, CEO of BVoIP
"We're pleased to see how the DNA has performed under BVoIP's testing process. This certification will ensure reliable performance under VOIP environments and enable MSP Partners to deploy these services with confidence," said John Tippett, VP of Networking at Datto. "Like BVoIP, Datto Networking is delivered to the market exclusively through our MSP Partners, and we're are proud to work with BVoIP and other companies that are dedicated to the channel and the success of MSPs."
About BVoIP
BVoIP (www.bvoip.com) helps IT and Managed Service Providers deploy voice and unified communications worldwide. The BVoIP platform is designed to not only automate how MSP's interact with their existing systems and tools but to also assist MSP's with an offering to standardize their Unified Communications offering to their customers. BVoIP is currently available in North America, Europe, and the Australian / New Zealand Regions. For more information please visitwww.bvoip.com or on Facebook,Twitter, and Google+.
About Datto
At Datto, our mission is to empower the world's small-to-medium-sized businesses with the best in enterprise-level technology. We do it by equipping our unique community of Managed Service Provider (MSP) partners with the right products, tools and knowledge to allow their customers to succeed. It's an approach that's made us the world's leading provider of MSP- delivered IT solutions. Datto is headquartered in Norwalk, Conn., with offices worldwide.