bvoip's Brian Freeh Named One of CRN's 100 People You Don't Know But Should
CRN Highlights the Unsung Heroes of the IT Channel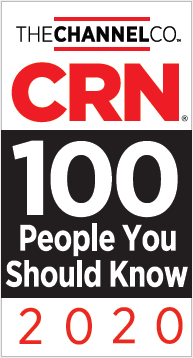 Philadelphia, PA - September 28, 2020 – bvoip, the leading provider of integrated communications for MSPs, is pleased to announce that CRN®, a brand of The Channel Company, has recognized Brian Freeh, Director of Partner Success, as one of the IT channel's 100 People You Don't Know But Should for 2020. This annual list pays tribute to the below-the-radar best and brightest who power the channel every day.
Based on feedback from leading solution providers and industry executives, the CRN editorial team uses the 100 People You Don't Know But Should list to draw attention to those outstanding channel players who may not be household names, but still work tirelessly to keep their partners thriving and the IT channel growing.
As Partner Success Director, Brian's role with bvoip cover multiple bases:
Leads our pre and post sales partner on-boarding efforts

Responsible to make sure partners training needs are met both white glove and self managed




Leads our documentation creation, knowledge base management, and best practices blueprinting

Also works with key accounts to make sure they get additional assistance as needed.
"It's important to find fanatical people that are willing to go the extra mile so that our partner experience is exceptional," said George Bardissi, CEO at bvoip. "Brian brings energy, willingness, and will power to work everyday. I can say without question that he has created great partner experiences, built strong relationships, and is an integral part to why bvoip is successful day in and day out."
"Managing a successful channel partner program today calls for a small army of people, but only a few Channel Chiefs tend to enjoy widespread recognition," said Blaine Raddon, CEO of The Channel Company. "With the 100 People You Don't Know But Should, we are delighted to shine a spotlight on an exceptional group of unsung team members, giving them some of the acclaim they deserve for their indispensable contributions to channel success."
The 100 People You Don't Know But Should will be featured in the October issue of CRN Magazine and can be found online at www.crn.com/100people.
About bvoip
bvoip (www.bvoip.com) helps IT and Managed Service Providers attack voice and unified communications worldwide. Having come out of the MSP space, bvoip designed its program to not only automate how MSP's interact with their existing systems and tools but to also assist MSP's with an offering to standardize their Unified Communications offering to their customers. bvoip is currently available in North America, Europe, and the Australian / New Zealand Regions.
Follow bvoip: Facebook, LinkedIn and Twitter
About The Channel Company
The Channel Company enables breakthrough IT channel performance with our dominant media, engaging events, expert consulting and education and innovative marketing services and platforms. As the channel catalyst, we connect and empower technology suppliers, solution providers and end users. Backed by more than 30 years of unequalled channel experience, we draw from our deep knowledge to envision innovative new solutions for ever-evolving challenges in the technology marketplace.
Follow The Channel Company: Twitter, LinkedIn and Facebook
© 2020 The Channel Company, LLC. The Channel Company logo and CRN logo are registered trademarks of The Channel Company, LLC. All rights reserved.
The Channel Company Contact:
Jennifer Hogan
The Channel Company
jhogan@thechannelcompany.com
bvoip Contact:
Sade Mendez
bvoip
215-402-7200 x675
smendez@bvoip.com