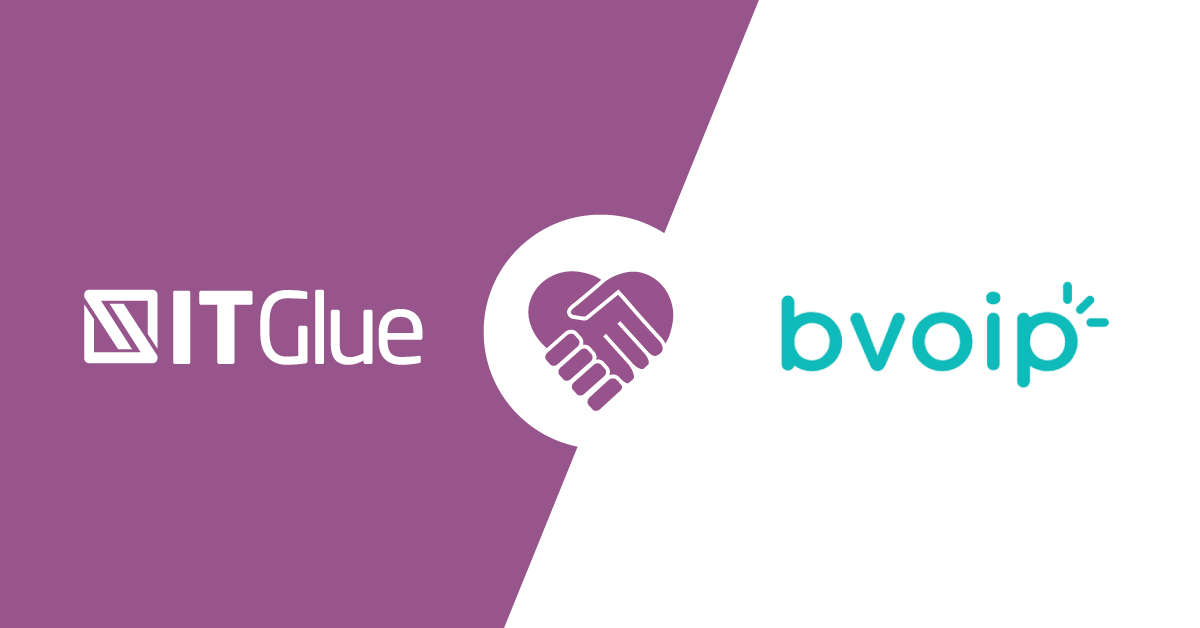 Philadelphia, PA and Vancouver, BC – April 21, 2020 - bvoip, the leading provider of integrated communications for MSPs, is excited to announce the release of VoIP integration with the world's market-leading documentation platform IT Glue.
Designed to streamline engagement between sales, service, and operations; bvoip's 1Stream platform integrates key communications data into popular IT, Managed Services Provider (MSP), CRM, ERP, and other systems.1stream's primary purpose is to enhance key interactions while automating sales, support, and back office interaction tasks; greatly expediting the tedious ticketing, notation, activity tracking, and reporting process.
Now that 1Stream integrates with IT Glue, mutual users of the two solutions will be able to instantly have customer documentation, passwords, assets, and other key information instantly appear on inbound calls. This will streamline the workflow of handling customer calls as well as help with keeping consistency as all users should then be working for the same set of customer information.
"IT & Managed Service Providers have a lot of moving parts, systems, and tools and generally spend a lot of time looking up information in various places in order to start working on solving an issue, explains George Bardissi, CEO at bvoip. "Together with IT Glue, bvoip can dramatic reduce the time front line staff spend handling incoming calls by instantly presenting customer specific documentation, passwords, assets, and KB articles in IT Glue as each team member fields a call." – George Bardissi, CEO, bvoip.
To see an integration demo please visist https://www.bvoip.com/integrations/1stream-it-glue-voip-integration-by-bvoip
To learn more about bvoip, please visit www.bvoip.com/1stream
About bvoip
bvoip (www.bvoip.com) helps IT and Managed Service Providers attack voice and unified communications worldwide. Having come out of the MSP space, bvoip designed its program to not only automate how MSP's interact with their existing systems and tools but to also assist MSP's with an offering to standardize their Unified Communications offering to their customers. bvoip is currently available in North America, Europe, and the Australian / New Zealand Regions. For more information please visit www.bvoip.com or on Facebook, and Twitter.
About IT Glue
IT Glue is a Software-as-a-Service (SaaS) company based in Vancouver, Canada that provides a simple and secure IT documentation platform for MSPs. The solution allows MSPs to document applications, devices, passwords and other IT assets centrally and in a standardized manner, enabling critical information to be stored securely yet easily accessible by those who need it, whenever they need it. IT Glue currently has over 6,000 partners in 36 countries, serving over 100,000 users and 500,000 businesses globally. For more information, visit: https://itglue.com/ and connect on LinkedIn and Twitter.
All trademarks recognized.