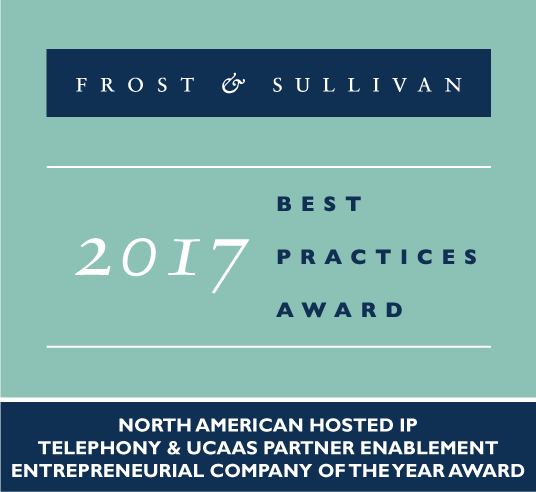 PHILADELPHIA, PA - APRIL 18, 2017 - BVoIP, the MSP Communications Platform, announced today that it has been awarded the Frost & Sullivan 2017 Entrepreneurial Company of the Year Award for Hosted IP Telephony and UCaaS Partner Enablement. Based on recent analysis of the Unified Communications-as-a-Service market, this award recognizes BVoIP's disruptive business model which enables channel IT and Managed Services Providers (MSP) businesses to deliver competitive technology with a superior customer value.
IT firms, Managed Services Providers, and technology support companies are entrusted to deliver piece of mind which is obtained by offering a fully embracing standardized technology stack. The goal is to take that stack and deliver it as an affordable and consumable bundle that bring the responsibility and oversight of the entire technology picture for their customers into a single view.
The UCaaS space is one item that IT & MSPs must effectively tackle as digital transformation is aggressively moving forward. Any tech firm will tell you that a solution without the tools, support, and profitability factored into the result is counterproductive. BVoIP specifically had addressed these items and simplifies this for its partners.
As a UCaaS offering, BVoIP drives innovation for over 400 partners, 3,000 organizations, and 150,000 users worldwide. In Frost & Sullivan's analysis, BVoIP shines in three key criteria, showcasing BVoIP's ability to support its partner base and spur innovation:
IT Background - BVoIP's unique capabilities coming from an IT services provider background allow it to augment the value chain with specific skills and expertise that most other hosted IP telephony providers do not possess
Integrations - BVoIP's strong focus on integrations fills a gap in the industry and enables the provider to deliver opportunities for differentiation and competitive advantage to partners and end customers.
Customer Impact - The customer purchase experience is greatly facilitated by BVoIP's all-inclusive pricing model.
"BVoIP is disrupting the market with a uniquely designed solution and a compelling vision for integrating communications with other software to both optimize IT operations and improve the end-user experience," says Elka Popova, Program Director, Frost & Sullivan. "Robust technology and unwavering commitment to innovation and customer value are likely to continue to drive customer loyalty and satisfaction for BVoIP and its partners in the future."
BVoIP stands out among hosted IP telephony and UCaaS providers with its distinctive business model; feature-rich, cost-effective solution; differentiated skill set and strong commitment to innovation and customer value, per Frost & Sullivan. BVoIP is uniquely positioned to deliver superior customer value in the hosted IP telephony and UCaaS market with its compelling 3CX platform, partner-centric approach, flexible pricing and deployment models, and keen focus on tightly integrating communications with mission-critical business applications.
"To remain competitive in today's rapidly evolving technology landscape, IT & MSP firms need to fully embrace a streamlined strategy that puts customer experience at the core," said George Bardissi, CEO of BVoIP. "At BVoIP, we're continually expanding our solutions and world-class ecosystem to help our partners better compete for today's always connected, fully empowered customer. Recognition from Frost & Sullivan is tremendous validation of the success and excellence of the BVoIP platform and our partner community."
Frost & Sullivan's Best Practices Awards recognize companies in a variety of regional and global markets for outstanding achievement in areas such as leadership, technological innovation, customer service, and product development. Industry analysts compare market participants and measure performance through in-depth interviews, analysis and extensive secondary research.
BVoIP will be recognized at the Excellence in Best Practices Awards Gala, which will be held July 19, 2017 at the Loews Vanderbilt Hotel in Nashville, TN.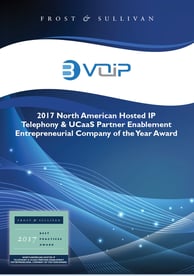 To view the full report, please visit this link
About BVoIP:
BVoIP helps IT and Managed Service Providers attack voice and unified communications worldwide. Having come out of the MSP space, BVoIP designed its program to not only automate how MSP's interact with their existing systems and tools but to also assist MSP's with an offering to standardize their Unified Communications offering to their customers. BVoIP has built integration with MSP industry solutions from Autotask, ConnectWise, ConnectBooster, DeskDirector, BrightGauge, JoomConnect, and others. BVoIP is currently available in North America, Europe, and the Australian / New Zealand Regions. For more information please visit www.bvoip.com or on Facebook,Twitter, and Google+.
About Frost & Sullivan
Frost & Sullivan, the Growth Partnership Company, works in collaboration with clients to leverage visionary innovation that addresses the global challenges and related growth opportunities that will make or break today's market participants. For more than 50 years, the company has been developing growth strategies for the global 1000, emerging businesses, the public sector and the investment community. Learn more about Frost & Sullivan at www.frost.com.