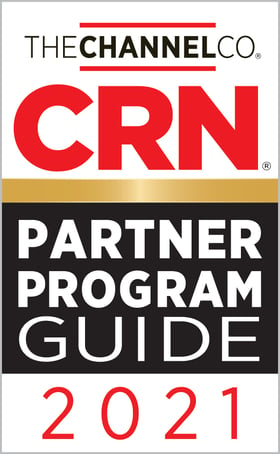 Philadelphia, PA (March 30, 2021) – bvoip, the leading provider of integrated communications for MSPs, is being acknowledged by CRN®, a brand of The Channel Company, for the 6th consecutive year in its 2021 Partner Program Guide. This annual guide provides a conclusive list of the most distinguished partner programs from leading technology companies that provide products and services through the IT Channel.
Given the importance of IT vendor channel programs, each year CRN develops its Partner Program Guide to provide the channel community with a detailed look at the partner programs offered by IT manufacturers, software developers, service companies, and distributors. Vendors are scored based on investments in program offerings, partner profitability, partner training, education and support, marketing programs and resources, sales support, and communication.
bvoip has been working strategically & exclusively over the last 6 years with IT Service Providers, Managed Service Providers, and Technology Integrators to deliver it's technology. The main focus has been to enhance the internal day-to-day experience with logical, workflow based technology and integration for our technology partners. The other focus has been to provide and assist our partners with the technology to deliver our Unified Communications platform to their end customers. With hundreds of new features and Integrations bvoip has really separated itself from other vendors in the space.
"Our blueprint starts first and foremost with the partner and then we go from there. It's a much different view when you build your foundation at the partner level rather than bolting them on after the fact." said George Bardissi, CEO of bvoip. "As a channel-only company, bvoip's DNA is not partner focused but partner driven. We are proud of our partner community and continue to strive to design and enhance our technology together in order to grow together."

"As innovation continues to fuel the speed and intricacy of technology, solution providers need partners that can keep up and support their developing business." said Blaine Raddon, CEO of The Channel Company. "CRN's 2021 Partner Program Guide gives insight into the strengths of each organization's program to recognize those that continually support and push positive change inside the IT channel."

The 2021 Partner Program Guide will be featured in the April 2021 issue of CRN and online at www.CRN.com/PPG.
To learn more about bvoip, please visit www.bvoip.com
About bvoip
bvoip (www.bvoip.com) helps IT and Managed Service Providers attack voice and unified communications worldwide. Having come out of the MSP space, bvoip designed its program to not only automate how MSP's interact with their existing systems and tools but to also assist MSP's with an offering to standardize their Unified Communications offering to their customers. bvoip is currently available in North America, Europe, and the Australian / New Zealand Regions. www.bvoip.com
About The Channel Company
The Channel Company enables breakthrough IT channel performance with our dominant media, engaging events, expert consulting and education, and innovative marketing services and platforms. As the channel catalyst, we connect and empower technology suppliers, solution providers and end users. Backed by more than 30 years of unequaled channel experience, we draw from our deep knowledge to envision innovative new solutions for ever-evolving challenges in the technology marketplace. Learn more at www.thechannelco.com.
Follow The Channel Company: Twitter, LinkedIn, and Facebook.

© 2021. CRN is a registered trademark of The Channel Company, LLC. All rights reserved.

The Channel Company Contact:
Jennifer Hogan
The Channel Company
jhogan@thechannelcompany.com