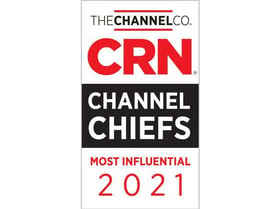 Philadelphia, PA (February 8, 2021) – bvoip, the leading provider of integrated communications for MSPs, today announced that CRN®, a brand of The Channel Company, has named bvoip's CEO, George Bardissi, and VP of Business Development, Alec Stanners, to its 2021 list of Channel Chiefs. This annual list recognizes the top vendor executives who continually demonstrate exemplary leadership, influence, innovation, and growth for the IT channel.
George's background as an MSP led him to 20 years in the industry. This unique perspective allowed him to start bvoip in 2014 with a strong focus on the MSPs and what they need.
Alec has spent the last decade among different channel companies as well as his time working in a startup VAR. Alec is responsible for the growth of the bvoip partner base as well as setting up our existing partners for success.
"Myself and Alec are two staples in the industry as we can often be found traveling the globe. We are honored and privileged to be listed to the Channel Chief list for the second consecutive year," said George Bardissi, CEO at bvoip. "being a Channel Based Company is not something that is a side program here at bvoip. It is the blueprint and ethos of why and how we built this company. We will continue to progress our efforts forward to grow our partner community so that we can thrive together. "
CRN's 2021 Channel Chiefs list honors the distinguished leaders who have influenced the IT channel with cutting-edge strategies and partnerships.
The 2021 Channel Chiefs have shown outstanding commitment, an ability to lead, and a passion for progress within the channel through their partner programs. The Channel Chief honorees were chosen by the CRN editorial staff for their dedication, industry prestige, and exceptional accomplishments in driving the channel agenda and evangelizing the importance of channel partnerships.
"CRN's 2021 Channel Chiefs list includes the industry's biggest channel evangelists, a group of individuals who work tirelessly on behalf of their partners and drive growth through the development of strong partner programs and innovative business strategies that help bring business-critical solutions to market," said Blaine Raddon, CEO of The Channel Company. "The Channel Company is proud to recognize these channel influencers and looks forward to following their continued success."
CRN's 2021 Channel Chiefs list will be featured in the February 2021 issue of CRN Magazine and online at www.CRN.com/ChannelChiefs.
To learn more about bvoip, please visit www.bvoip.com
About bvoip
bvoip (www.bvoip.com) helps IT and Managed Service Providers attack voice and unified communications worldwide. Having come out of the MSP space, bvoip designed its program to not only automate how MSP's interact with their existing systems and tools but to also assist MSP's with an offering to standardize their Unified Communications offering to their customers. bvoip is currently available in North America, Europe, and the Australian / New Zealand Regions. www.bvoip.com
About The Channel Company
The Channel Company enables breakthrough IT channel performance with our dominant media, engaging events, expert consulting and education, and innovative marketing services and platforms. As the channel catalyst, we connect and empower technology suppliers, solution providers and end users. Backed by more than 30 years of unequaled channel experience, we draw from our deep knowledge to envision innovative new solutions for ever-evolving challenges in the technology marketplace. Learn more at www.thechannelco.com.
Follow The Channel Company: Twitter, LinkedIn, and Facebook.

© 2021. CRN is a registered trademark of The Channel Company, LLC. All rights reserved.

The Channel Company Contact:
Jennifer Hogan
The Channel Company
jhogan@thechannelcompany.com