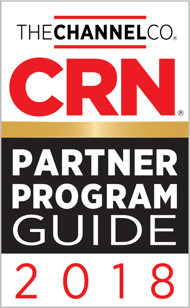 Philadelphia, Pennsylvania, April 4, 2018 – BVoIP, The premier MSP integrated VoIP solution, announced today that CRN®, a brand of The Channel Company, has recognized BVoIP in its 2018 Partner Program Guide. This annual guide is the definitive listing of partner programs from technology vendors that provide products and services through the IT channel.
To compile the guide, The Channel Company's research team assessed each vendor's partner program based on investments in program offerings, partner profitability, partner training, education and support, marketing programs and resources, sales support and communication.
BVoIP's partner base spans North America, Europe, and Australia / New Zealand with roughly 1000 partners in the ecosystem. BVoIP provides hands on assistance from on-boarding, training, support all the way to managed marketing programs to assist with partner sales and marketing efforts. The experience is designed for IT & Managed Services Providers to be able to adopt the program and scale. The technical roadmap of the BVoIP platform really concentrates on the internal partner experience first and then extends to their end users.
"Finding the right technology vendor to partner with can be a daunting task, given the vast array of choices now available to solution providers," said Robert Faletra, Executive Chairman of The Channel Company. "CRN's Partner Program Guide helps them narrow the field and find the best fit, identifying the most rewarding partner programs and providing crucial insight into their strengths and benefits. We are pleased to present our 2018 PPG list, recognizing the strongest and most successful partner programs in the channel today."
"We are absolutely honored to be recognized again by The Channel Company! Being a company that works through partners means without our partners we wouldn't exist. Coming from the MSP world myself, I have participated in multiple partner programs and understand what works and what doesn't work for a great channel program. With many new and exciting things on the horizon for BVoIP this is just the beginning and our partners are at the center of our strategy!" said George Bardissi, CEO & President of BVoIP.
The 2018 Partner Program Guide will be featured in the April issue of CRN and online at www.CRN.com/ppg.
Follow The Channel Company: Twitter, LinkedIn and Facebook
About BVoIP
BVoIP is THE MSP Communications Platform designed for IT & MSP firms to standardize their UC stack internally and as an offering for downstream customers. Take advantage of over 150+ integrations to various platforms including the tools you use to run your business. BVoIP is available in North American, Europe, Australia & New Zealand.
About the Channel Company
The Channel Company enables breakthrough IT channel performance with our dominant media, engaging events, expert consulting and education, and innovative marketing services and platforms. As the channel catalyst, we connect and empower technology suppliers, solution providers and end users. Backed by more than 30 years of unequaled channel experience, we draw from our deep knowledge to envision innovative new solutions for ever-evolving challenges in the technology marketplace. www.thechannelco.com
CRN is a registered trademark of The Channel Company, LLC. All rights reserved.
The Channel Company Contact:
Melanie Turpin
The Channel Company
(508) 416-1195
BVoIP Company Contact
Alec Stanners
BVoIP
215-405-7200 x690