Cloud Security
Firewalls
As internet security concerns continue to rise, it's critical for businesses to take necessary precautions to protect their online services and transactions. BVoIP understands these concerns and begins its security measures at the cloud level. Our redundant enterprise-class firewalls are the first line of defense and are at the core of our service offerings.
PBX Automated Anti-Hacking Security Features
3CX Phone system has a security menu that is preconfigured with security settings to attempt SIP hacking of the phone system as well as bad password attempts and a large volume of traffic that is considered unusual. You can modify the settings in this menu as you see fit but make sure to consider your options carefully!
3CX Phone system allows you to also whitelist and blacklist IP addresses. All traffic originating from the whitelsit IP addresses will be allowed through unchecked by the anti-hacking features. All traffic originating from blacklist IP addresses will be dropped immediately.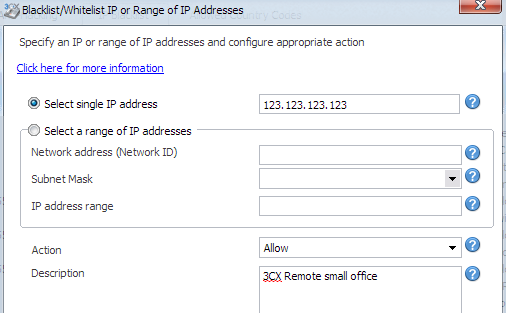 3CX Phone System also allows you to enable traffic to the specific countries that you expect to make outbound calling to in an effort to limit call fraud should one of your extension credentials be comprimised.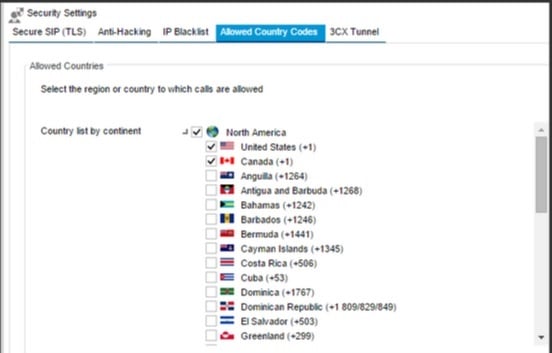 Secure SIP (TLS)
3CX Phone System can establish secure SIP connections if desired. To enable this you to create a private key and certificate. Note that this feature does not work with all phones.
SBC Security Features
Security is important issue addressed by our Session Border Controllers (SBC's). DOS, DDOS, fast and slow attacks can be controlled. Our SBC's protect the Proxy and Registrar server from malformed SIP packets and Avalanche Restart effect as described in RFC5390.
DDoS Protection
Threats of DDoS attacks continue to rise and the businesses that rely on the internet to reach their customers are increasingly at risk of encountering problems related to these attacks. While there are varying degrees of DDoS protection offered by service providers, you have to choose the right options to your unique business. Weighing both the economics and risk levels becomes important as our business grows and becomes more visible.
Our best effort DDoS mitigation offers you peace of mind knowing that we're watching over your network traffic and taking action against attacks, keeping your servers online and your business moving. Our DDoS mitigation services comes standard with all of our services, and provides protection against the majority of small and medium attacks as a whole.

We offer protection against several DDoS Attacks: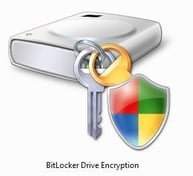 Server Drive Encryption
If required we have the ability to enable server level hard drive encyrption utalizing Microsoft's BitLocker Technology. This feature set is built into Microsoft's Windows Server operating systems.
Cloud Compliance
BVoIP's cloud facility vendors are SOC 2 audited and a Payment Card Industry Data Security Standard
(PCI DSS) Validated Services Provider. BVoIP's heightened security measures allow you to bypass the expense of a complete security audit and, instead, use our vednor's reports to meet some of your own guidelines.
The physical security standards we meet also help you address any industry-specific regulations you might be sub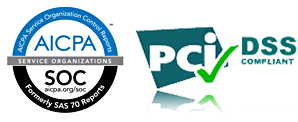 ject to such as the Sarbanes-Oxley Act (SOX), Gramm-Leach-Bliley Act (GLBA), or Health Insurance Portability and Accountability Act (HIPAA). And if you are taking online payments, you can leverage our physical security measures to meet some of your own PCI requirements.