It feels like just yesterday I was riding a tour bus with 9 other vendors traveling the Midwest for the Channel Strong Tour. I can't believe it's already been nearly a month since the last tour. Here's a recap of all the fun you missed:

Ever wonder what happens behind the scenes? I have some great (and not so great, but still wildly hilarious) recaps to share!
Finally recuperating after an exciting event-filled 2 weeks in the Midwest for Channel Strong. This year, we had the opportunity to share industry insights, best practices and real-world experiences with more than 250+ attendees. Not only was this the fourth quarterly tour, but it was also the first time some of the folks met face-to-face since the pandemic.
The vendors included ThreatLocker as the headlining sponsor, bvoip, Pax8, Compliancy Group, RocketCyber, Mailprotector, Zorus Tech, Equilibrium Consulting, The ChannelPro Network, and Trend Micro.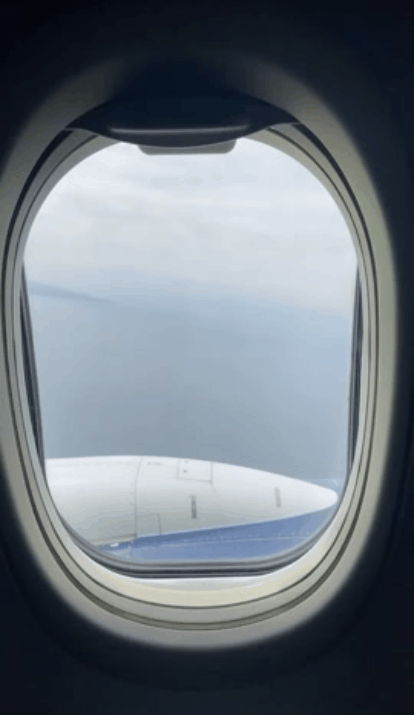 Boy, did it feel great to be back in the air! Here was the cool view after taking off.
We kicked off week 1 in Nashville and made our way to St. Louis, passed the arches to Milwaukee, then hit the Windy City and ended the week in Grand Rapids. During week 1, we served close to a hundred meals, drank over 30 cases of water and just under that number in beers. Conversations and camaraderie were on point consistently throughout the trip. All and all, the tour went as planned with little to no hiccups - except for those who chose to hydrate the effects of the Midwest sun by sipping on Coors Light, of course! 😉
---
Day One – Nashville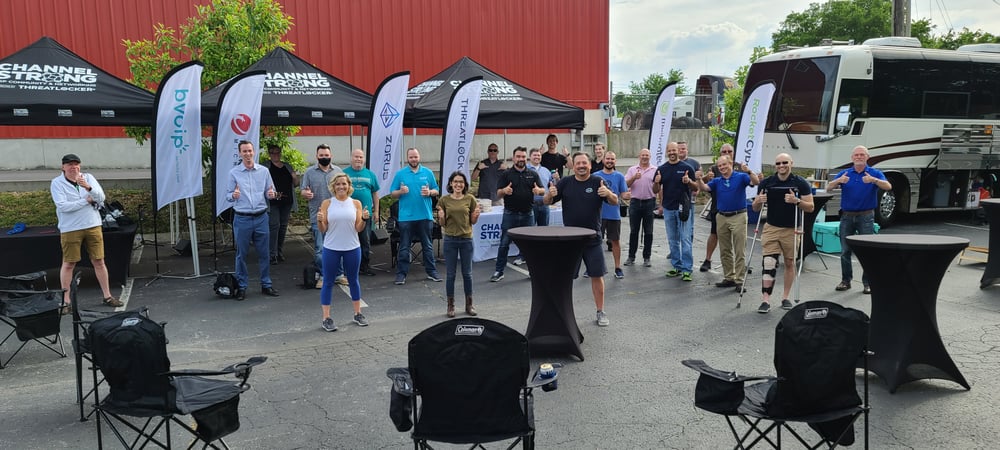 The vendors met in-person in none other than Nashville, TN. Some of the vendors that flew in earlier headed to downtown Nashville to get a taste of the delicious Nashville-style hot fried chicken. (For those of you wondering, the hot fried chicken totally lives up to the hype. 👌)
Once we organized the tour bus to prep for the next two weeks, we headed over to our first stop at 5th Gear Technology Concepts. During that time, we collected several dozens of cans, and we even had a special performance from one of the attendees that blew everyone away!
The only thing better than singing is more singing - and there was more of that during this trip. Overall, Day One was a great way to kickoff the start off the tour in none other than the music capitol. 🎸🎶
Special thanks to our hosts, 5th Gear Technology Concepts, for opening your space to us (for the second time!)
Similar to Cinderella, once the clock hit two hours later, it was time to hit the road and head over to the next stop.
---
Day Two – St. Louis, MO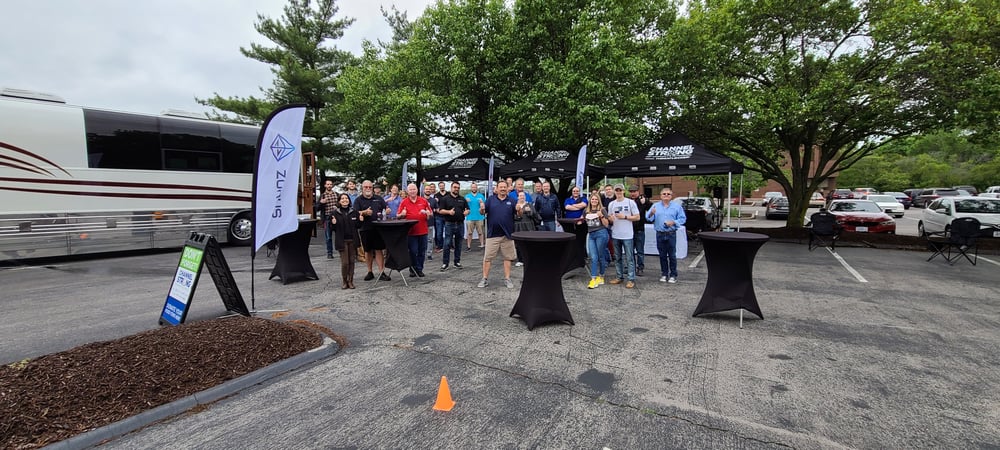 St. Louis was colder than we remembered, but Karpel Solutions made sure we had a warm welcome! And, of course, what's a Channel Strong Tour without some good ole' cornhole?
---
Day Three – Milwaukee, WI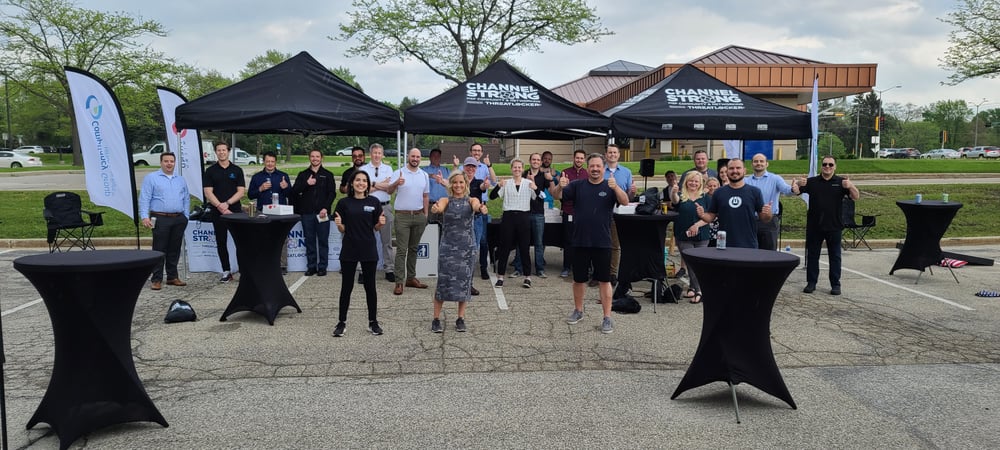 The weather forecasted suggested we would catch some rain, but that didn't stop S
WICKtech and other Milwaukee neighbors coming out to the Channel Strong Tour. We even had a mini karaoke session as the rain picked up, singing a song everybody would recognize:
The rain eventually went away and we went well over time hanging out. Even as the tour bus was driving away, we had some looks that read, "Wait, where are you going?! Get back here!" But you know how it goes, and the show (or tour in this case) must go on.
---
Day Four – Chicago, IL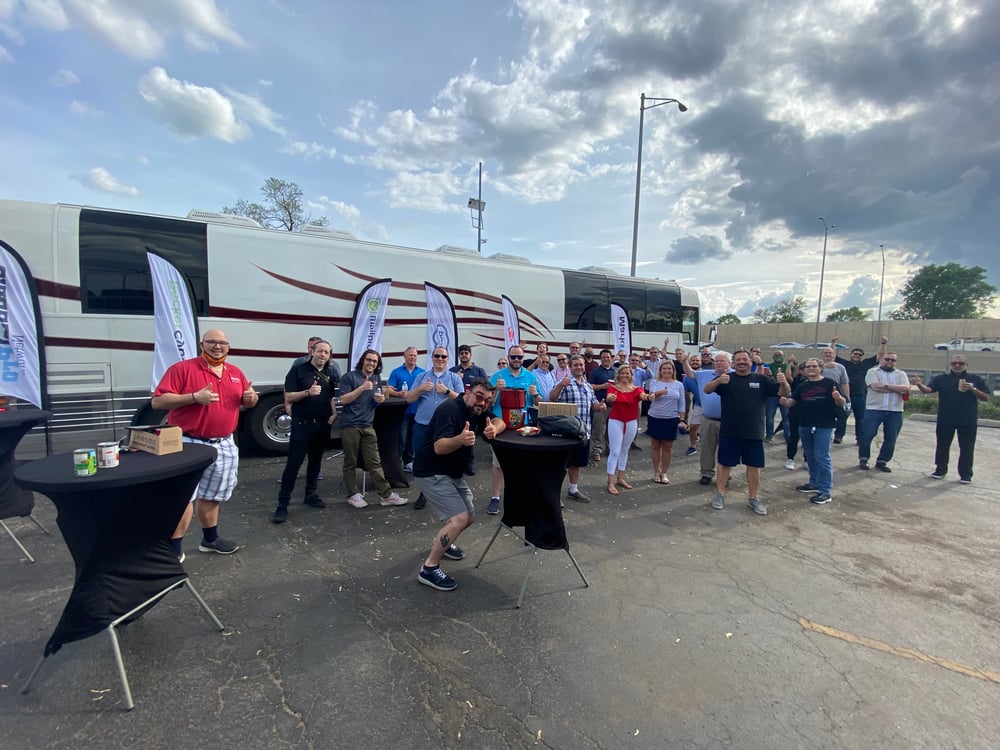 We rolled into Chicago and made the best of the time we had. Courtesy of Matt Scully from Mailprotector, some of the crew tasted from delicious Chicago dogs. 🌭 Now, I'm no hot dog fiend, but this was worth the wait. If you're scouting for some great grub in the Chicago area, then you'll want to connect with Scully. He's your man and will gladly share some of his favorite hidden gems in the Windy City!
Some of the other crew grabbed a quick lunch at Dave & Buster's. While we were there, we had to squeeze in some downtime for the arcade games! (After all, you know how the saying goes - all work and no play makes Jack a dull boy.) So, we hit up different games varying from racing to shooting and even a Star Wars-themed VR game for some friendly competition to get us pumped in time for our biggest registered event yet.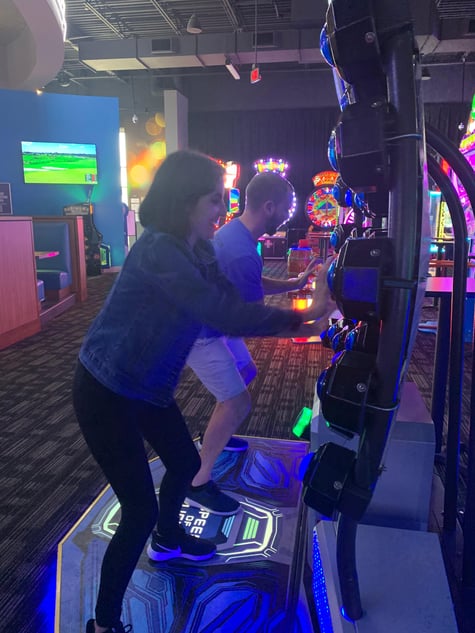 Once we got the crew pumped and going, we headed to FireLogic. This stop was our most registered and highly anticipated stop yet, and Chicago certainly did not fail to roll deep. 🙌
---
Day Five – Grand Rapids, MI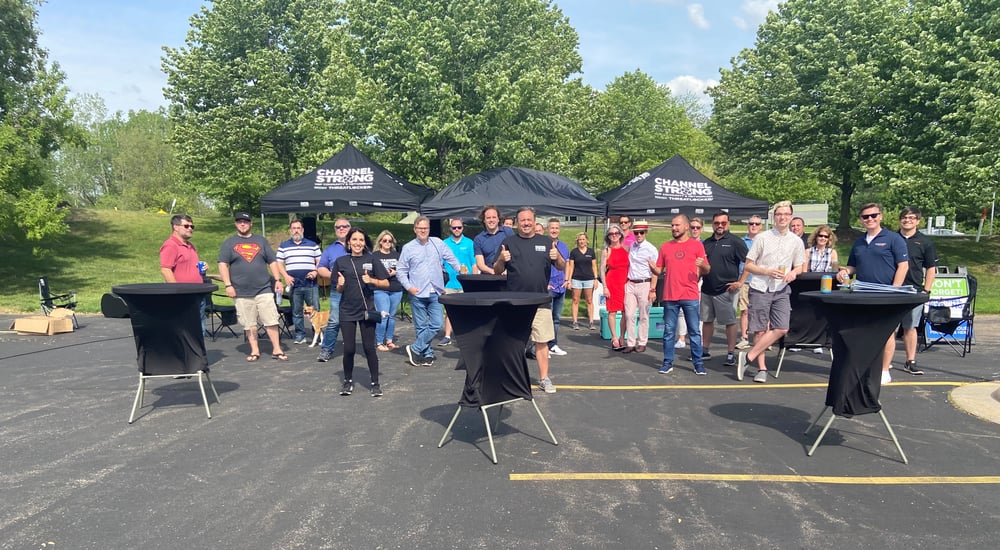 Ahh, beautiful Michigan! I fell in love with this city back from the Channel Strong Tour in October when we visited the Midwest. So, those who were on for that leg of the tour were excited to return.
Our friends over at Catchmark Technologies welcomed us with open arms, and warmer weather. We saw some familiar faces and befriended plenty of new folks (and even an excited office pup).
---
Cheers to the Weekend!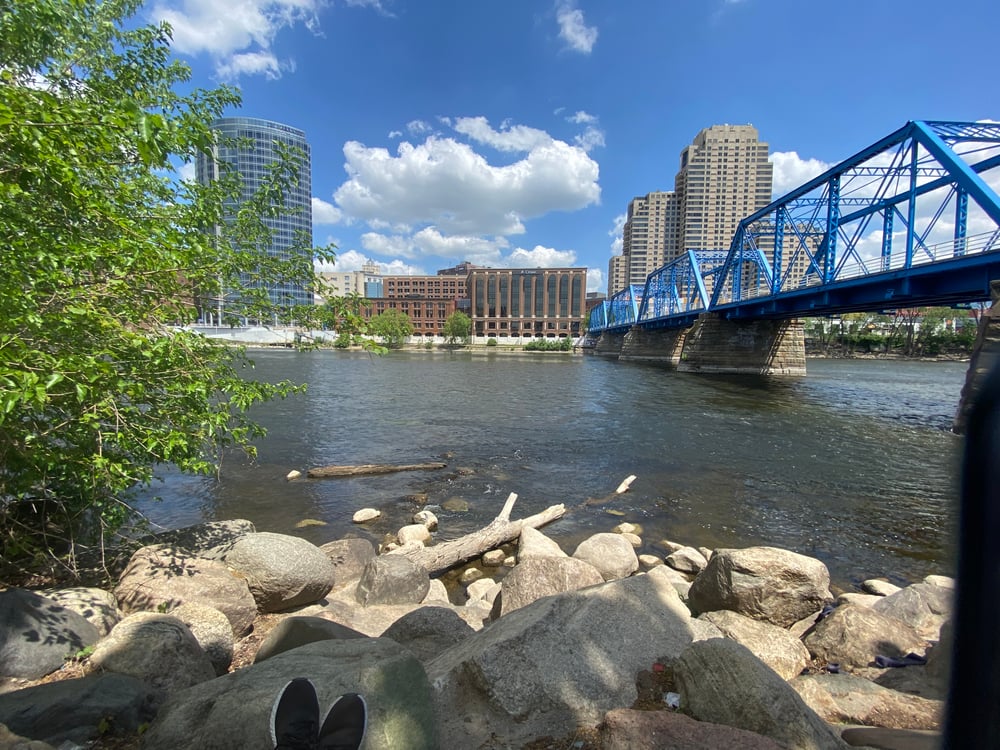 During the weekend, some of the vendors took off while others stayed in Grand Rapids and used the time to explore the hidden treasures the city had to offer like the Blue Bridge, Founders Brewery, B.O.B., and more. The best way to sum up our time in Grand Rapids could be in two words: Scooters. Everywhere.
Once Sunday rolled around, we packed up our belongings and headed to Cleveland!
---
Day 6 – Cleveland, OH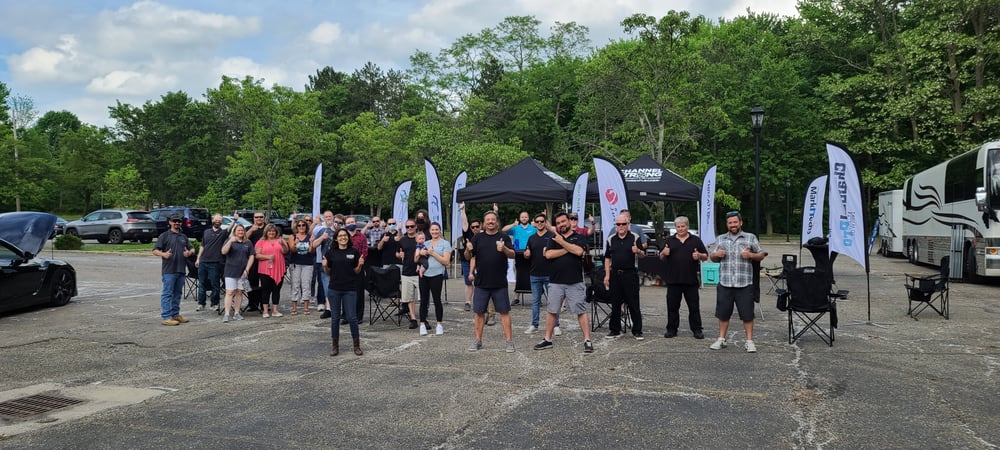 After a nice weekend of recuperating, we started week two strong with Simplex IT as our host.
Pete Busam from Equilibrium Consulting brought out his beautiful GT-R and even gave several partners a spin around the parking lot. We were having so much fun we even had a police officer show up to scope things out. Once it became known that nothing life-threatening was going on, the police officer left and the tailgate-style channel meetup continued.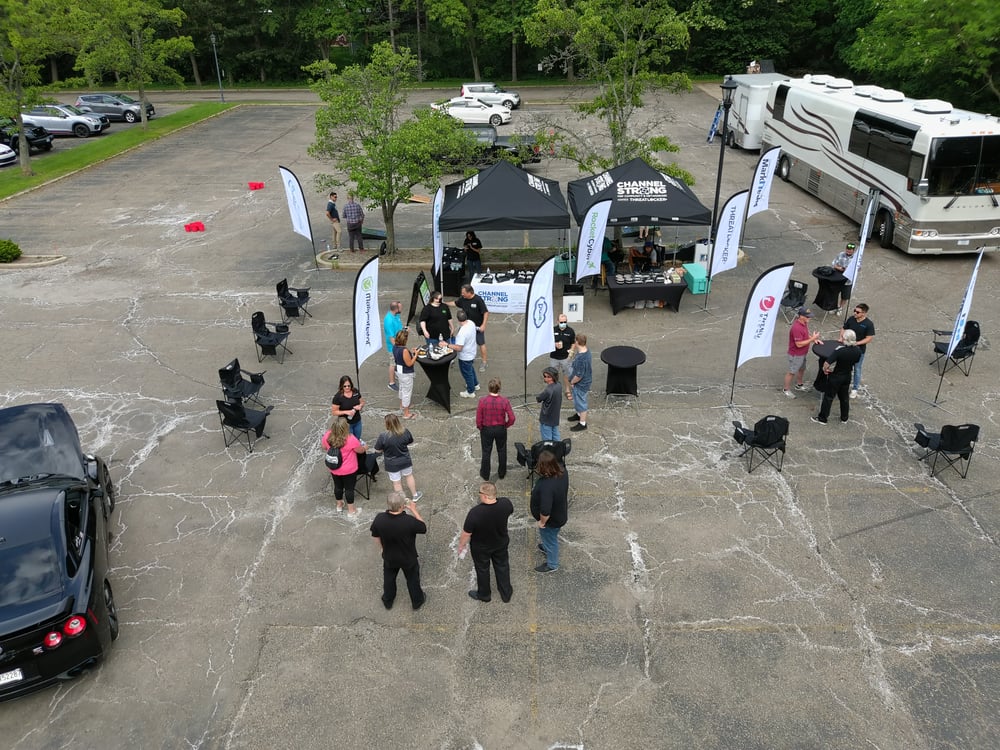 Before we knew it, it was time to head back out on the road and on to the next stop.
---
Day 7 – Pittsburgh, PA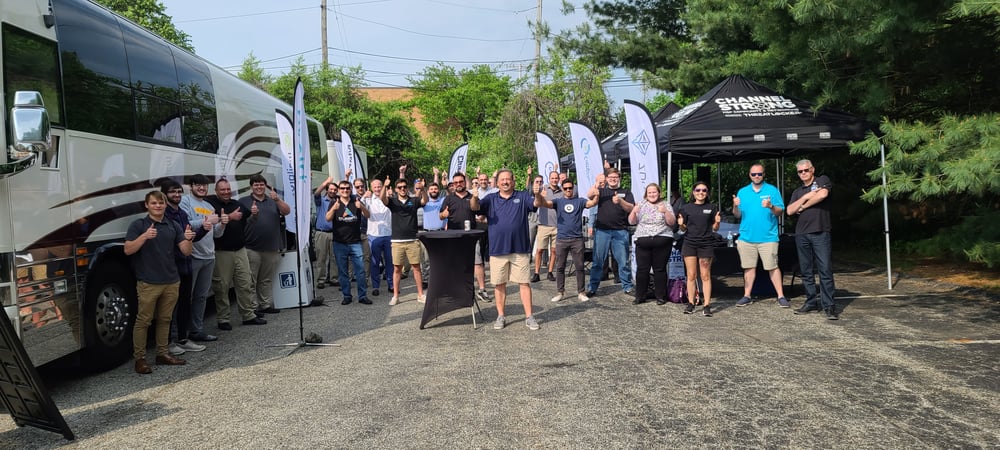 Pittsburgh is such a breathtakingly, beautiful city. As someone who has grown up on the west coast (and in the desert, to say the least), seeing this much greenery is such a luxury!
Anyway, we headed over to Ascent Data for another channel meetup. While there wasn't a chance of rain, there were certainly 100% chance of great grub, better weather, and tons of cornhole. I'd almost argue out of all our stops during this trip Pittsburgh was the one who took cornhole to a whole new level.
---
Day 8 – Columbus, OH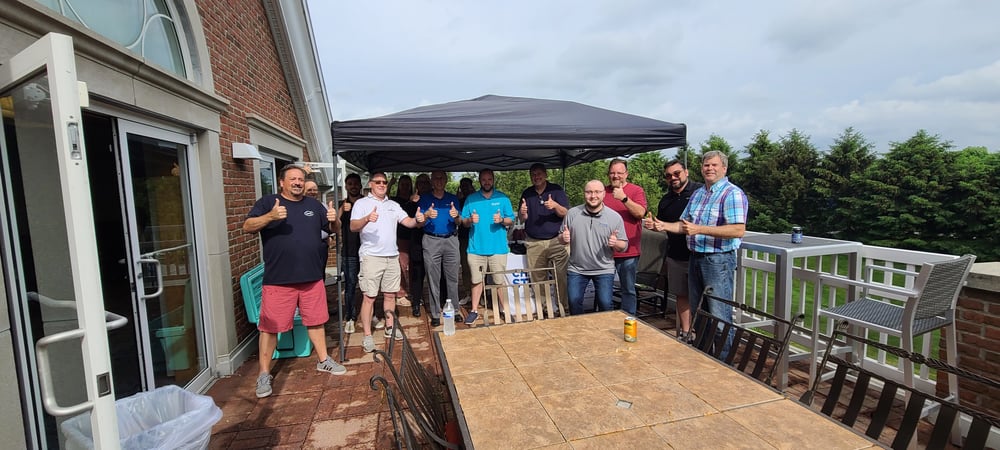 When potential weather issues arise, you do what you can to make the best out of it and that's exactly what TTG, our hosts, did. Their office building is a beautiful two-story space that also included a gorgeous balcony. While most people know our channel meetups to be hosted in the parking lot, we took full advantage of the space both indoor and outdoor to transform the event for that day into a bit of a hybrid model in order to dodge the rain.
It worked out beautifully and everyone had a grand ole' time!
---
Day 9 – Cincinnati, OH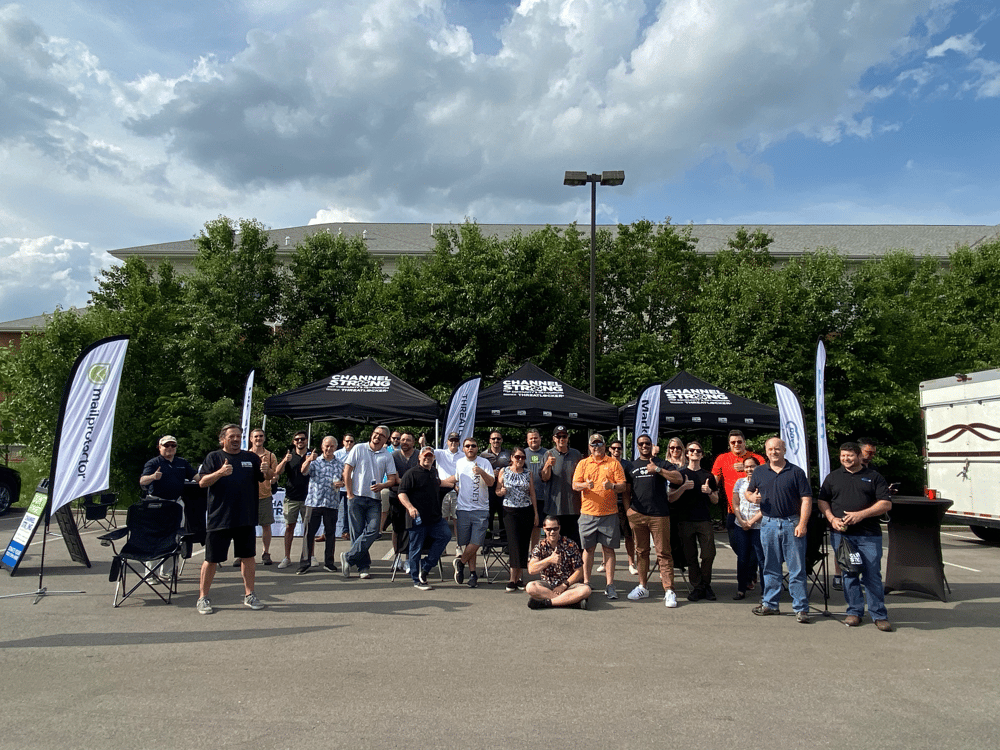 Visiting our friends over at Intrust IT is always a good time! When we arrived on-site, we were welcomed with tons of happy faces. We even had a quick tour of the inside of their office space, which has some pretty cool décor!
Check out their custom mural: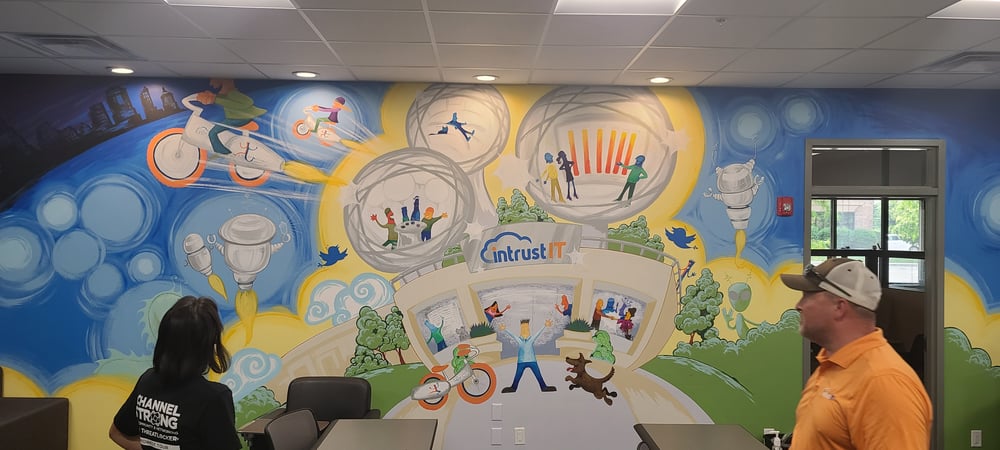 After our tour of their office, we enjoyed some cornhole under the Cincinnati sun and Paul Redding from Compliancy Group brought out his drone for some cool aerial shots like the one below.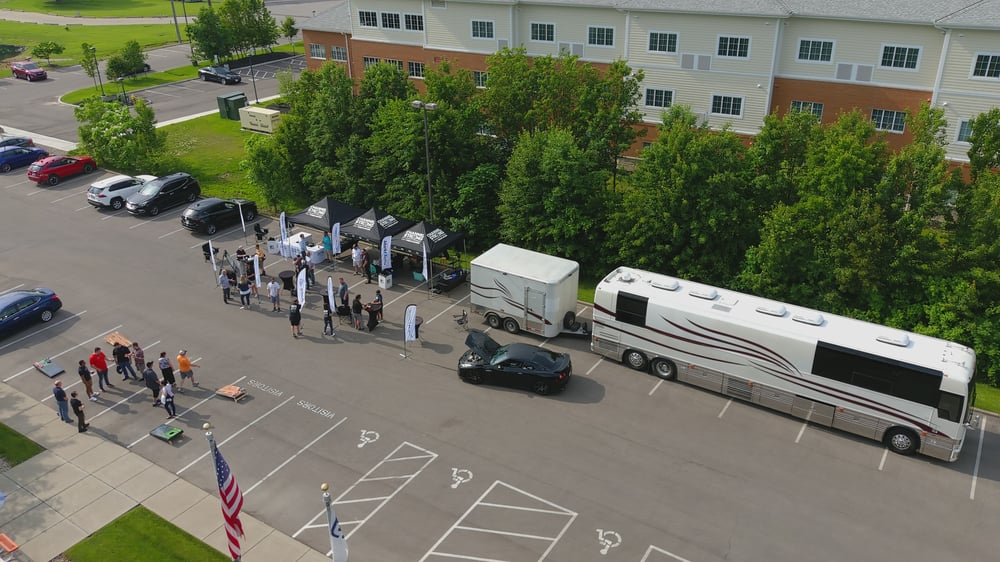 ---
Day 10 – Indianapolis, IN
The tail end of the tour, we caught a rainstorm. Luckily, our hosts, Monon Technology Group, graciously opened their space indoors. We didn't let the rain prevent us from having our last hurrah.
We ended the tour with an intimate group and grubbed on some yummy tacos and saying goodbyes!
---
Final Thoughts
This tour was an absolute blast, and I want to thank both our most gracious hosts and the partners who took time out of their days to join us. To my Channel Strong "band mates," I miss you already and I'm looking forward to seeing each of you on the next tour! (Hang tight for more details on that.)
Again, special thanks to our hosts:
5th Gear Technology Concepts

Karpel Solutions

SWICKtech

FireLogic

Catchmark Technologies

Simplex IT

Ascent Data

TTG

Intrust IT

Monon Technology Group
This would not have been possible without you.
---
Channel Strong Northeast Tour
That's right! The Channel Strong Tour is headed to the Northeast for the first time ever. We're headed to your backyard for even more chances of great local grub, cool beverages, cornhole, and tons of networking!