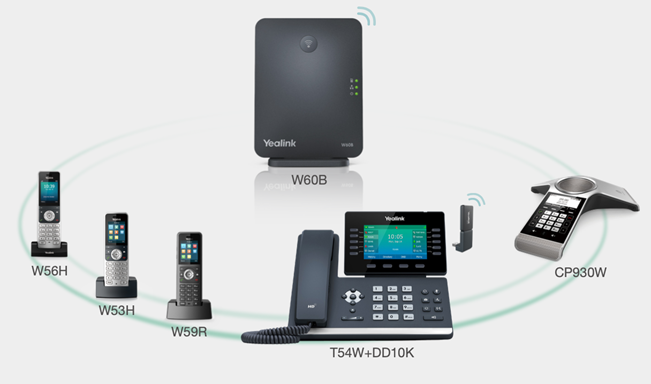 Introducing New Yealink Dect Phones Series
Based on DECT technology, the Yealink DECT Desk Phone, is ideal for those places that you desire a desk phone with the cordless convenience. No wired LAN is required, all you need nearby are a power adapter and a DECT Dongle DD10K, which makes your installation easy, quick and convenient.
In addition, when paired with Yealink DECT IP base station, the integration of Yealink DECT dongle DD10K enables T41S/T42S to work concurrently with the Yealink DECT system as a handset (Yealink W60B supports up to 8 DECT handsets in total). All of these advanced technologies create an improved user experience while enabling different users to connect in a range of ways that enhance productivity.
Highlights
Easy Installation without Wired LAN
DECT Technology
2.7" 192x64-pixel graphical LCD with backlight
HD voice: HD handset, HD speaker
4 context-sensitive "soft" keys
15 paperless DSS key
5 features keys: message, headset, mute, redial, hands-free speakerphone
6 line keys with LED
Compatible with Yealink DECT IP base station
Headset, EHS support
This device is available via the bvoip partner portal e-store.