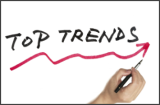 Few business processes are more integral to the success of business endeavors than communications. Keeping up with your competitors as they digitally enable their employees to more easily reach co-workers, partners and customers is paramount to your success in our technological era. What does this mean for your company moving forward? You must stay current with the following four trends: mobile, cloud, WebRTC and UCaaS.
Mobile
Your employees want the option to work anywhere, anytime, on any device. Keeping them happy and working at peak performance, therefore, necessitates giving them access to server-based applications on their tablets and smartphones. In doing so, you'll also enable better customer service options, enhanced collaboration with partners and colleagues, and the use of real-time data to gain insights on how to more effectively engage consumers. These next-generation apps must be more user-centric and data-powered as more and more people use portable devices vs. laptops and computers. In other words, design your services based on the needs and requirements of mobile users interacting with your brand.
Keep in mind that consumers are adopting smart devices at an astonishing rate, which will further open opportunities to engage with new and existing customers. In fact, according to MasterCard CMO Raja Rajamannar,50 billion connected deviceswill be in operation by 2020.
Cloud
Cloud communications technologies, such as hosted VoIP, are being quickly adopted by many businesses seeking to avoid the excess costs and complexities of an on-premises phone system. By using a cloud-based solution, businesses avoid issues with setup and installation while garnering employees a robust set of features. Furthermore, supervisors, salespeople and employees who interact with customers gain productivity benefits when VoIP technology is integrated with CRM software to utilize client information.
According to the Right Scale 2015 "State of the Cloud Report,"93 percentof the 930 technical professionals it surveyed are running applications or experimenting with infrastructure as a service. "Cloud is a given," the report states, "and hybrid cloud is the preferred strategy." Indeed, the report reveals that 82 percent of enterprises have a hybrid cloud strategy, up from 74 percent in 2014.
WebRTC
Together with the BYOD and remote workforce trends, the API standard for Web real-time communication (WebRTC) is making it easier for businesses to engender work outside the office. Yet, while the former two trending areas bring concerns about organization wide security, WebRTC is inherently secure. So, because businesses want to accommodate their remote workers who want access to more business applications from their own devices, they are relying more on WebRTC. Being browser-based, WebRTC is automatically updated with the latest bug fixes without any effort on the part of the user.
For video communications, WebRTC eliminates the need for third-party servers, plugins and downloads. Because it uses open standards, WebRTC can broaden the reach of traditional (i.e., proprietary) voice and video communication features and benefits to more users.
UCaaS
Unified communicationsas a service (UCaaS) delivers significant capabilities as part of business applications. Historically premise-based UC solutions (such as integrated audio and Web conferencing, video and telephony) are moving to the cloud as businesses begin to see them as a compelling option for improved productivity at a lower cost. Users are thereby enabled to be more self-reliant, reducing their demands on IT resources. This trend is a boon to most IT departments, which are relieved of day-to-day maintenance of infrastructure and enabled to focus more on strategic business initiatives.