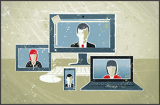 New functionalities that have been added:
Ability to record online meetings and download them as mp4.
Remote Control Windows computers.
Significant video quality and bandwidth optimization enhancements.
Ability to survey meeting participants.
Hand over meeting control to another participant.
Anonymize participants.
Meeting Location selection: Select optimal MCU for better video quality.
Additionally, 3CX WebMeeting is now available independent of 3CX Phone System. Three editions are available:
3CX WebMeeting – Stand alone version. Meetings are organized from a web portal
3CX WebMeeting for 3CX Phone System – Integrated with 3CX Phone System, meetings are organized from 3CXPhone.
3CX WebMeeting Server – On premise edition of 3CX WebMeeting.