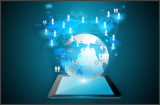 Decades ago people may have only imagined that business leaders from the eastern hemisphere could speak face-to-face with their peers in the western hemisphere without stepping on an airplane. Now, we live in an age of virtual communication and our potential to foster strong international business relationships is part of our reality—so long as you have the right technology.
Virtual technology—such as Cloud PBX or WebRTC-based Web conferencing—affords even further opportunity beyond growing international business relationships. In fact, cloud communications can be used to heighten remote working productivity and satisfaction as well as providing cost savings and more flexible methods of communication for today's businesses.
Due to the myriad of opportunities provided by cloud phone system technology more businesses are adopting tools such video conferencing. In fact, according to a recent report thevideo conferencingmarket is set to rise at a9 percent CAGR through 2019. The report states that a main reason of its heightened popularity is businesses' desire to keep their workforces connected at all times.
So here's what you need to conduct business in a virtual world:
Cloud PBX
Cloud PBX—or more specifically a software-based phone system that can be leveraged from devices ranging from desktops, laptops, tablets or mobile—allow businesses to implement more remote working accommodation. As such, employees with long commutes or who simply prefer to work remotely can do so without sacrificing any productivity. Cloud PBX affords the same features and capabilities that employees would be able to access if they were in the office.
Additionally, a Cloud PBX allows organizations to select from a global pool of talent when recruiting new employees. That is, a business's workforce now knows no boundaries as geographically dispersed colleagues can utilize technology which enables them to speak and to hold brainstorming sessions as if they were in the same office. For example, Cloud PBX systems can be as robust as your business communications requirements and include a unified communications suite. As such, remote colleagues can leverage tools like instant chat to engage in a near real-time conversation, despite their physical distance.
WebRTC-based Web conferencing
WebRTC-based Web conferencing affords its users with real-time, high quality video conferencing. But, it's a step up from your basic video conferencing platform because a session—whether it's between two co-workers or a group of 15 geographically dispersed business partners—it can be initiated by way of a browser-to-browser connection. The WebRTC technology is what enables this simple, Web-based interaction as it can be deployed over an Internet browser in lieu of inconvenient clients or plugins.
Case in point,WebRTC-based Web conferencingis essential to the virtual communication experience. It's one of the most comprehensive ways to hold large meetings without fearing buffering videos, poor audio quality or that your meeting attendees experience difficulties with plugins prior to the meeting. As such, the simplicity of this conferencing solution adds to its virtual appeal, it's as simple (if not more) as walking straight into a conference room to attend a meeting.
Learn more about the advantages of virtual communication by clicking here.