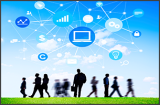 How frustrating is it when you implement a new system or technology for your customer and then as time goes by and things change you are forced to rip and replace every time? The telcom industry is infamous for this very issue and as IT / Managed Service Providers (MSP) this is definitely a pain point. There is an answer to overcome vendor lock-in which ultimately gives you a road in which you can prevent the "bleeding" on device rip and replace syndrome.
Utilizing a best-of-breed open standard VoIP platform that offers Cloud PBX business communication solutions definitely eliminate restrictions imposed by proprietary vendors. For instance, with a flexible VoIP provider, you can configure your phone system the way you see fit. You can choose to use SIP phones, VoIP gateways, or even integrate IP phone lines with your office's traditional copper or PRI lines for a smooth transition to Internet telephony for you and your customers.
With IP-enabled telephony, the configuration of your phone and communication system is up toyou,not your vendor. For example, say you want to gradually, i.e., not in one fell swoop, transition to an entirely VoIP platform but you are stuck in a long term agreement with an existing dial tone vendor all you need to do is install a gateway and use that dial tone vendor until later on when you can change that vendor. Or, maybe you already have a current SIP dial tone vendor you want to use then keep them and simply plug in your account details into the VoIP management portal.
Let's say you have current open standard VoIP devices like Linksys, Cisco, Polycom, etc then you can reset and re-provision those devices until you want to replacement them with newer devices down the road. Maybe you want to keep some of your current phones and then want to transition some users to newer devices or softphones with headsets. It's totally up to you! The flexibility is there for you to make the best choices for you and your customers.
With a proprietary vendor, these options usually are not possible which limits your options and makes it harder to keep your customers on a modern platform. And, even if your proprietary vendor does offer SIP phones or VoIP gateways, those options are most likely accompanied by an exorbitant fees due to vendor-specific licensing which make it not economically possible to reach your goals.
So, run your business the way you want, including the freedom to configure a customized phone system specifically to your needs.