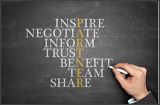 So you are in the Managed or IT Service Provider business and your company needs to provide a certain level of service and support to your customers. In order to accomplish that, your upstream vendors need to support you right? We have all gone through the process with some of our vendors where the support and assistance is not up to snuff.
Your cloud vendor partners should be a source of expertise and backing for all your sales and installations of its products and services. If not, perhaps it's time for you to align with a new IT/MSP focused partner.
A great vendor partner is one that is innovative and keeps you up to date on the newest technologies impacting your industry. Its products should enhance your customers' communication and collaboration efforts with the latest features on aproven platform, such as Cloud PBX with BVoIP.
Cloud PBX powered by 3CX completely replaces your customers' legacy communications systems, supporting popular SIP phones,VoIP providersand traditional PSTN lines—and is the only phone service on the market that runs on Windows.
As a BVoIP Partner, your customers will be able to lower their call costs and enlarge their businesses by bridging their offices for free inter-office calls. Employees can also take their office extensions with them on any mobile device wherever there is an Internet connection—nevermind "hot desking" anywhere in the office to enable more flexible communications.
Besides the inherent qualities of our platform—how about our advanced unified communications features, such as videoconferencing and WebRTC?—our partner program will provide you the ability to offer another valuable piece of your IT Stack and MSP agreements. We do this by also offering these additional partner benefits:
We will help train your staff.
Our online live web and online training course consists of a series of video tutorials, taking you through setup, configuration and "gotchas" of our platform.
We will provide you the "white glove" or "concierge" support your IT / MSP needs.
We get it. You need an upstream vendor that will go the distance to working with you. We came from where you are now. Are support team is designed to give you the necessary confidence to add our offering to your service offering.
Infrastructure designed the "right" way to get the job done the first time.
We know that you may have made investments into your current cloud infrastructure but not all technologies are "created equal". There is something to be said for the reality that hosting an email server is different than hosting a terminal server is different than hosting a real time communications platform. We consolidated the "best of breed" technology in order to make sure this is done right so that you can stand on solid ground from the 1st project.
Access to Integrations that will Super Charge your systems and tools.
Our partners get their own internal use system with integrations to systems like Autotask, ConnectWise, and others. Whether it's your PSA, CRM, ERP, RMM, Help Desk Ticketing, Payment Processing, or other systems we constantly innovative to make sure you have the ability to streamline your day-to-day processes to succeed. Why try to grow your businesses with one hand tied behind your back? You need to provide the tools necessary to make sure your team concentrates on the things that matter!
If you currently don't have a Cloud Communications partner or are looking for more than what your current partner is providing then maybe it's time to look at BVoIP's cutting-edge and reliable solutions.