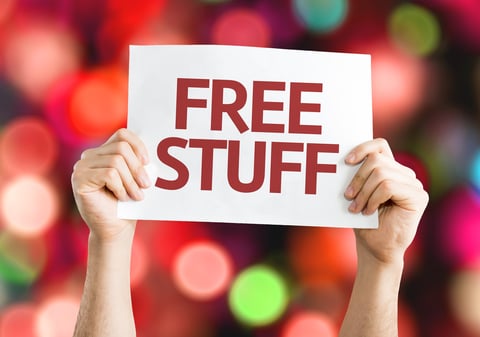 "Did you say free? I'm in!"
The UCaaS and VoIP industry is largely made up of the same building blocks once you take a chance to step back and look at it - software, endpoints, and dial tone. Everything is else is packaging, pricing, and what is known as the proverbial "mouse trap,"
One of those things that tends to get people excited is the idea that you are going to get "free devices." (There goes that free word again.)
Nevertheless, let's dive into the things that matter.
Free Usually Equal Term
Of course, nothing is ever really free. Usually, those devices come at the end of some sort of term as part of the contractual agreement anywhere from 1-3 years and beyond.
The length of the term of the total agreement does play a factor on the price you pay for everything, which would ultimately include the "free" phone.
This usually limits your ability to reduce number of users without a penalty for that "free" phone.
If you add more users, which means more phones, don't be surprised if you are forced to extend your current agreement or add another agreement that completely misaligned from the original agreement.
Model of Equipment Matters
The "free" phone isn't always the greatest quality. In fact, a lot of the time a cheap sub $75.00 device is offered as the included equipment.
If you want something nicer than that, which is typically the case, then you would have to either pay more up front or more per month per user making that free phone, well, not so free.
You may be limited to being able to use devices that you may already own and forced down the phone that comes from the provider instead.
They may not have all the gear you need, which then means you would be forced to either deal with that or have to purchase equipment outright outside of your normal desk phones or conference phones.
What If Something Breaks?
Let's say, for instance, you have a 3-year term on "free phones" and something breaks in year 2 or 3. Do you get replacement or warranty coverage after the phones normal warranty period (usually 1 year) ends? If the answer is no, then are you buying a phone out of pocket? Forced to start a new term to get a replacement devices?
What Happens at the End?
Does the end user need to send back the equipment at the end of do they own it?
What happens if the phones are worn down to usage and replacements are needed? Would you be forced to start all over again? New agreement? New term? New price?
For MSPs, when you are in the driver's seat, you have choices on how you could model your own offering, should you have a program in place that you control rather than a third party's story.
Sell it Outright
Many IT & MSPs find their end customers don't have a problem picking and then paying for their gear up front - whether it's headsets, phones, conference room gear, it is as simple as selling a laptop or keyboard.
Self Finance
Some feel they need to compete with the "free phone" offer from the big box providers. In this case, what is often found is that if the MSP purchases the equipment at their price, then rolls into the monthly MSP agreement, and make their money back within 2-4 months. Usually, an MSP would then align the deal with their larger MSP agreement or put them into a term like the big box providers. After you make your money back, the rest is extra money you are collecting back in terms of profit. The equipment you want to position would be best with the longer warranty periods, so that you are not stuck replacing broken gear along the way. You still might want to hold a couple of devices on the shelf for spares as backup.
Traditional Leasing
Every IT and MSP has seen Device-as-a-Service pop up, whether it be from the manufacturer or distributor. This is no difference. You could piggy back on those leasing programs and throw the phone hardware in (if you prefer) and roll it up into one monthly cost for all networking and computer gear.
Rent
A newer option has arrived were IT and MSPs can rent devices on a monthly basis and then turn in devices or request newer devices without a term. This gives you extreme flexibility, whereas you don't have to front money out of your pocket but can still play the "free phone" game. Imagine a device is $100.00 and your cost would be something like $4.00 per month for example, you could simply include that into your pricing math and be able to send those phones back if/when you are done with those devices and stop paying for them!
In the end, this is just one part of the three things that make up every phone system. It is a sales and marketing tactic; and there are a lot of ways to approach it. Don't let the "free phone" angle throw you off. Understand the positioning, do your homework, pick your path, and win!