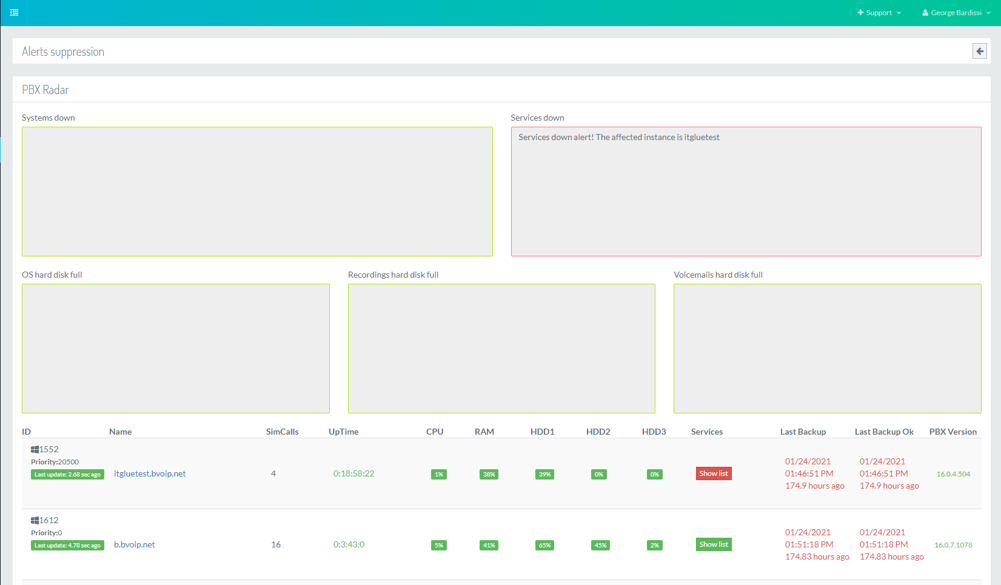 bvoip is happy to announce a new feature release to our Control Portal called PBX Radar.
This is meant to be a NOC (Network Operations Center) style dashboard that will alert you in Real-Time on your "fleet" of accounts or phone systems.
PBX Radar is designed to be on a screen that can be thrown up on a secondary monitor or big screen TV on the wall.
Key Features include:
Ability to monitor in Real-Time


Downed or Unresponsive Systems
Any Individual or Block of services that are not running
Instance App/Root/Base Operating System Disk Full
Instance Recording or Voicemail Disks Full
Last system Check-In Time to the Monitoring System
System Uptime
CPU/Ram/Hard Disk Utilization %
PBX Services List with Up/Down Services
Last System State Backup Taken
Last System State Backup Verified
PBX Software Version

Alert Suppression

Ability to Suppress System Alerts for a Specific Phone System with Notes
This is now available to all partners and included as part of the bvoip partner portal. No additional subscription or cost is needed for this functionality.