Deliver Unified Communications Out of the Box
Presence, Fax & Voice Mail to email, Web conferencing and instant messaging are child's play for BVoIP.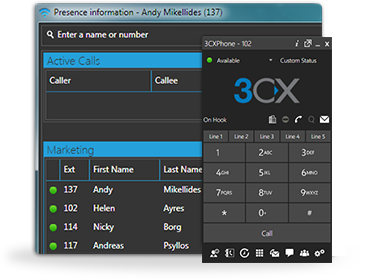 With the integrated Apps, users automatically get access to advanced unified communications features – without needing to load or learn separate software – and that companies are normally charge extra for by other vendors.
The ability to view the status of other colleagues ("Presence") is a great time saver avoiding unnecessary call transfers or voice mail tags.
Eliminate expensive voice mail tags
Avoid unnecessary call transfers that irritate customers
Visible from all 3CXPhone clients: Mac, Windows, iOS & Android
Deliver Faxes & Voicemail to Inbox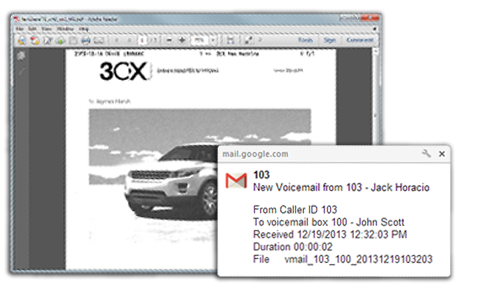 Inbound faxes are converted to PDF and forwarded to users via e-mail, without requiring any fax server software. Likewise voicemails are converted to sound files and forwarded via e-mail
Forward voicemails to inbox
Listen to voicemails without calling in
Faxes are received as PDF files in your email
Instant Messaging / Text chat
Allow employees to communicate together via text chat, without the need to rely on third party internet messaging systems. Users can send and receive text messages via Windows, Mac, iPhone and Android clients from anywhere.
No need for third party messaging systems
Send text messages, links and more at no additional cost
Available on Mac, Windows, iOS and Android
Want to learn more about BVoIP's Cloud PBX?